Fans of Jeep SUVs have had an interesting journey over the years; in some ways, Jeep can be seen as the innovator of what modern SUVs have become. And yet, despite how popular such models have often been, there have been some strange decisions made by the various manufacturers that owned the Jeep brand over the years. A lot of people are very excited about the 2022 Wagoneer that's coming soon, and with good reason: it's an impressive piece of machinery that does a great job of staying true to its past while blazing a trail into the future.
Anyone who's not a particularly ardent Jeep fan might be left wondering what all the hubbub is about, however, especially considering the noted lack of the word "Jeep" on the vehicle's name. Never fear, dear reader; I'm going to take you through a brief history of the Wagoneer and what it's been through over the past 60 years. Then we'll have a look at this all-new 2022 Wagoneer and get a sense of what it has to offer. I can't promise I'll make you the world's biggest Wagoneer fan, but at least you'll know why a lot of people are eager for this new SUV.
Impressive Origins: The Jeep Wagoneer SJ
Before we get into what the 2022 Wagoneer has to offer, let's start at the beginning with the first vehicle to use this name. The original Jeep Wagoneer was introduced in 1962 for the 1963 model year as a follow-up to the Jeep Station Wagon that had previously been available. It had a larger design, and though it was described as having a "station wagon body style" at the time, it was what we'd recognize today as an SUV.
This was a true SUV using a body-on-frame design similar to a truck, rather than a unibody design like a car (this is the distinction between an SUV and a crossover, by the way). This original generation for the Wagoneer is called the "Wagoneer SJ" because it used Jeep's SJ body platform, which was the same one used for the original Jeep Gladiator pickup, also introduced for the 1963 model year. The Wagoneer was originally available with either two doors or four, and it was offered with either rear-wheel drive or four-wheel drive.
The original Wagoneer had a 3.8L 6-cylinder engine that delivered 140 hp, which might not sound like much today, but that was just fine in the 1960s for what many people still saw as some sort of station wagon. Updates over the next few years included the addition of seatbelts as a standard feature (ah, the 60s!) and an available 5.4L V8 engine that boosted performance to 250 hp. As you might imagine, this more powerful option was quite popular.
A Long Legacy
One thing I haven't mentioned yet is just how long this original Jeep Wagoneer generation lasted. For most models, a generation usually lasts five or six years, but the original Jeep Wagoneer SJ model was available, with relatively minor changes, from 1963 until 1991! Seriously, its first generation was in production for almost 30 years, making it one of the longest generations in auto history.
As you might expect, there were some changes over this time, just nothing big enough to warrant a new generation. For instance, by 1969, the rear-wheel drive models were discontinued as it became clear that customers much preferred four-wheel drive, which became the only available option. The two-door models were also less popular than the four-door option, so by 1969, the Jeep Wagoneer was only offered with four doors.
In 1970, American Motors Corporation (AMC) acquired Jeep, and while they kept the Wagoneer SJ in production, they started making some improvements. There were design changes made to reduce noise and vibrations, along with exterior changes to the front grille. Despite the oil crisis of the 1970s, the Jeep Wagoneer and its notably low fuel economy remained popular, which is why it survived into the 1980s. In 1984, the Wagoneer SJ was renamed the "Jeep Grand Wagoneer" for reasons that I'll explain further down.
Chrysler bought AMC in 1987 and took over the Jeep line – since the Grand Wagoneer was still quite popular, they saw no need to discontinue it. Numerous upgrades were made from 1989 to 1991, and those models are often sought after as representing the best the Wagoneer SJ had to offer. The Gulf War and surging gas prices in 1990 ultimately sounded the death knell for the Grand Wagoneer, along with new Federal Motor Vehicle Safety Standards for trucks and SUVs set to go into effect later in the 1990s. And so, in 1991, the final Grand Wagoneer SJ was produced, and this line came to an end.
The Jeep Cherokee (Wagoneer in Name)
Weirdly, however, the Jeep Wagoneer SJ was not the only "Wagoneer" available prior to the announcement of the all-new 2022 Wagoneer. The 1984 Jeep Cherokee XJ was designed with the intent of replacing not only the previous Cherokee SJ but also the Wagoneer SJ. But, the Wagoneer proved so popular that AMC decided to keep it in production.
In order to make things as confusing as possible, however, two trims for the Cherokee were named the "Wagoneer" and "Wagoneer Limited." These were unrelated to the original Wagoneer SJ, which was renamed the "Grand Wagoneer" to avoid confusion. I'm pretty sure simply not naming these two trims after the Wagoneer would've been the easiest way to avoid that, though. These two trims were only available until 1990.
The Jeep Grand Cherokee (Wagoneer for a Year)
Just in case you're still not confused by all of this, there's a third model that was also called the Wagoneer, but only for a single year. The Jeep Grand Cherokee, which replaced the Grand Wagoneer and Jeep Cherokee, was introduced for the 1993 model year and featured a "Grand Wagoneer Limited" trim that had all sorts of luxury features. This trim was dropped in 1994, and for more than a quarter of a century, that was the last we heard of the Wagoneer name.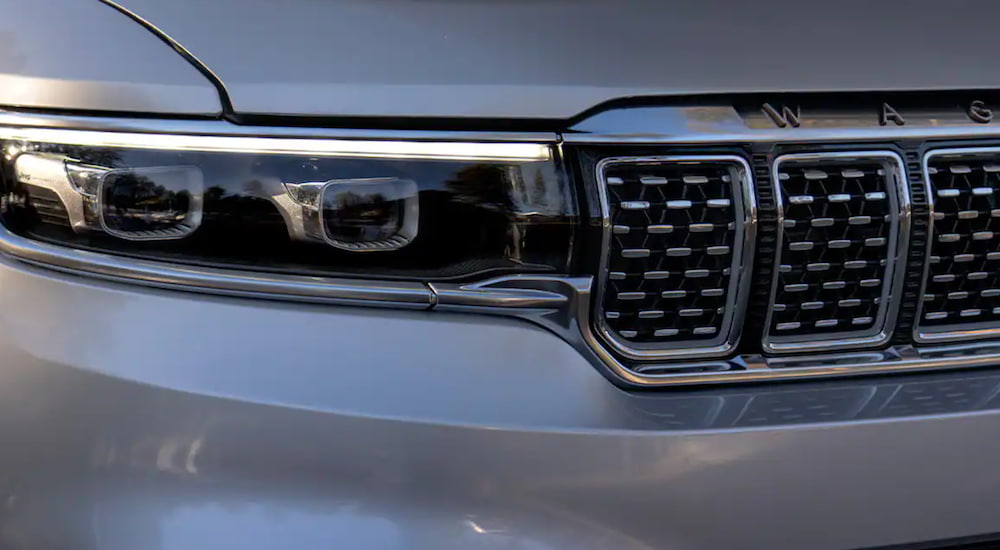 The All-New 2022 Wagoneer
Until now, of course, as Stellantis (the company that owns the Jeep brand) has unveiled an all-new 2022 Wagoneer designed to build upon the legacy of the original in bold and exciting ways. One thing: the "Jeep" in the name has been dropped. I assume they want this to feel like its own thing, and that's fine; I'm not entirely sure why it was necessary, but no one asked me.
Most importantly, the new Wagoneer is definitely an impressive follow-up to the models of the past, with a large three-row design and up to 10,000 lbs of towing capacity. The last we saw of the "Grand Wagoneer," it was offered as a high-end luxury model, and that's definitely the case with this all-new version. It has up to 50 inches of total display area available inside, including a large central infotainment display, a digital driver display, and a unique dedicated front-passenger display. Combine this with other features like Amazon FireTV and Alexa integration, available Nappa leather-trimmed seating, and an available 19-speaker McIntosh premium sound system, and you've got something special.
With available four-wheel drive, 22-inch wheels, and a Quadra-Lift air suspension, the 2022 Wagoneer can also be a great choice for leaving civilization behind. It's going to be interesting to see everything this new model has to offer when it finally starts hitting showrooms. But, for now at least, it certainly seems like we're looking at a worthy successor to the Wagoneer legacy.